You should all be excited, with The new Lux Series book, Abigail Haas news, Another Becca Fitzpatrick news and another video from Capitol TV (new Mockingjay video).
I'm going to do this in order of date, so that its set out in chronological order (it seems more logical to do it like this..)
THE LUX SERIES
I utterly love this series, and the first five books utterly kicked butt. As many fans of the Lux series would know that we are all eagerly awaiting the last instalment of this series, and as I spend at least one hour each day looking at different authors blogs, I frequently check out Jennifer Armentrout's blog and we have news about the last book in the Lux series.
Katy knows the world changed the night the Luxen came.
She can't believe Daemon welcomed his race or stood by as his kind threatened to obliterate every last human and hybrid on Earth. But the lines between good and bad have blurred, and love has become an emotion that could destroy her—could destroy them all.
Daemon will do anything to save those he loves, even if it means betrayal.
They must team with an unlikely enemy if there is any chance of surviving the invasion. But when it quickly becomes impossible to tell friend from foe, and the world is crumbling around them, they may lose everything— even what they cherish most—to ensure the survival of their friends…and mankind.
War has come to Earth. And no matter the outcome, the future will never be the same for those left standing.
I always had this plan for the off chance I was around for the end of the world. I'd climb up on my roof top, turn up the radio, blast R.E.M.'s It's The End of The World, and watch it all go down from my lofty perch.
Except real life rarely turned out that cool.
And it was really happening—it was the end of the world as we knew it, and I sure as hell didn't feel fine.
Everything had changed and we had been the catalyst for it all."
2. "For once, I don't hurt. I don't worry. I want this."
3. Her stare was serious as she studied him. "I'm not sure she likes you"
4. "She's not going anywhere soon. Dawson knocked her into next week I think"
5. "We were supposed to have tonight and tomorrow, and many weeks and many months, but we didn't even have another minuet."
6. "There was a rumble , causing the house to groan and small clouds of dust to drop from the ceiling. The table scuttled over the floor. A chair toppled over, and then another. somewhere in the living room a window shattered. Kat was going to bring the house down."
REACTIONS ON GOODREADS
(MANY GIFS WERE USED)
These reactions were once the books name had been released and these reviews were posted back in 2013, when we had to wait almost a year for the book.
"I had one of the happiest moments of my life when I found out that the fifth book was going to be in Katy's and Daemon's POV and that it already had a title. I was dancing around in joy, but then my eyes fell on the date 2014 and I felt like ripping someone's throat out. Okay maybe not that extreme but I still really wanted to punch something.

"
"AM I IN HEAVEN? OR AM I DREAMING?
PIIIIIINNCCCCHHHHHH ME SOMEONE!
AAAAAAAAAAAHHHHHHHHHHHHH!"
"So Kate and Daemon got married, Andrew and Ash died, Bethany and Dawson are having a baby, Matthew betrayed his own family then dies, Daemon, Dawson, and Dee turned all Dark Vader on us, and Jennifer L. Armentrout excepts us to wait a freakin century and a half for the release date of the next book?"
More Daemon, Dawson, and (dare I say?) Archer?
A title of the final book?
But no synopsis...
AND RELEASE DATE SET TO
SUMMER 2014
!?
DANGEROUS GIRLS... DANGEROUS BOYS?
After very recently buying and reading this book, it made a huge impact on my emotions. Its an indescribable book, brilliantly written. Celine wrote a review on it, make sure you check it out and then run to your bookshop and read it.
Imagine my surprise when I was surfing the web and found another book, just like Dangerous girls but with a slightly different title and by the same author...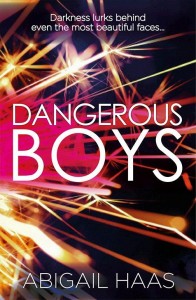 DANGEROUS BOYS?
RELEASE DATE : AUGUST 17TH
BLURB:
Three teens venture into the abandoned Monroe estate one night; hours later, only two emerge from the burning wreckage. Chloe drags one Reznick brother to safety, unconscious and bleeding; the other is left to burn, dead in the fire. But which brother survives? And is his death a tragic accident? Desperate self-defense? Or murder?
Chloe is the only one with the answers. As the fire rages, and police and parents demand the truth, she struggles to piece together the story of how they got there.
A story of jealousy, twisted passion, and the darkness that lurks behind even the most beautiful of faces…
REACTIONS ON GOODREADS.
Update: OH. EM. GEE. I AM GETTING AN ARC.
"Dangerous Squirrels.
Dangerous Babies
.
Dangerous Half-Eaten Corn on the Cob.
I do not care what the hell Abigail Haas writes next - if it has her name on it, I'll be reading it. I'm already evangelical about
Dangerous Girls
, and beyond excited that her newest psychological thriller maintains the same thoughtful, slow-building creepiness combined with intriguing character development told through creative non-linear structure".
"After the mindf****ry and awesomeness that was Dangerous Girls,


MORE BECCA?
After Becca Fitzpatrick's amazing series of Hush Hush, which is about a girl who meets an incredibly mysterious guy in biology only to learn he is as fallen angel, she gets dropped into this surreal world. Becca's writing is laced with detail, she creates a world and characters as if she is writing an unauthorised biography.
I was very excited when I check out her blog and found that she was indeed making another book, called Black ice.



BLACK ICE.
RELEASE DATE: OCTOBER 7TH
BLURB:
Sometimes danger is hard to see... until it's too late.
Britt Pfeiffer has trained to backpack the Teton Range, but she isn't prepared when her ex-boyfriend, who still haunts her every thought, wants to join her. Before Britt can explore her feelings for Calvin, an unexpected blizzard forces her to seek shelter in a remote cabin, accepting the hospitality of its two very handsome occupants—but these men are fugitives, and they take her hostage.
In exchange for her life, Britt agrees to guide the men off the mountain. As they set off, Britt knows she must stay alive long enough for Calvin to find her. The task is made even more complicated when Britt finds chilling evidence of a series of murders that have taken place on that very mountain... and in uncovering this, she may become the killer's next target.
But nothing is as it seems in the mountains, and everyone is keeping secrets, including Mason, one of her kidnappers. His kindness is confusing Britt. Is he an enemy? Or an ally?
BLACK ICE

is

New York Times

bestselling author Becca Fitzpatrick's riveting romantic thriller set against the treacherous backdrop of the mountains of Wyoming. Falling in love should never be this dangerous…
REACTIONS ON GOODREADS.




"aw, if Hush, Hush isn't enough, Becca went ahead and started a new series.
Becca, I'm still paralyzed with the fangirling and admiration for Patch. AND NOW I HAVE ANOTHER BOOK TO TAKE AWAY ANY TRACES OF MY NORMALCY THAT HUSH, HUSH MISSED TO TAKE AWAY?
I will not stand for this. I call for justice. It's wrong to hypnotize people with your writing.
Eh, oh well, it's not like I have a social life, anyways. I'm just gonna...you know...pop some popcorn, saddle into my bed, and turn pages of your new book."
MOCKINGJAY NEWS!
After doing a very long post of the news for the upcoming Mockingjay films, guess what got released? No, not the trailer but another Capitol Report.
(A/N : I almost cried)
How exciting is this?! I can almost taste the trailer.
Well I hoped you enjoyed the update.
I loved the reactions on goodreads, made me realise how crazy and funny fangirls are.
My bLoG iS BETteR ThaN Your VLoG