Finally it is the delayed feature (only by seventeen days) feature of 'New Releases' for June 2014.
Enjoy.

THE THINGS YOU KISS GOODBYE
Release date: June 24th 2014
Betti
na Vasilis can hardly believe it when basketball star Brady Cullen asks her out, and she just about faints when her strict father actually approves of him.
But when school starts up again, Brady changes. What happened to the sweet boy she fell in love with? Then she meets a smoldering guy in his twenties, and this "cowboy" is everything Brady is not—gentle, caring, and interested in getting to know the real Bettina.
Bettina knows that breaking up with Brady would mean giving up her freedom—and that it would be inappropriate for anything to happen between her and Cowboy. Still, she can't help that she longs for the scent of his auto shop whenever she's anywhere else.
When tragedy strikes, Bettina must tell her family the truth—and kiss goodbye the things she thought she knew about herself and the men in her life.
Leslie Connor has written a lyrical, heartbreaking, and ultimately hopeful story about family, romance, and the immense power of love.
MY THOUGHTS
I haven't read a full on romance novel for what seems like ages and I feel that I should read it. But I am kind of torn between whether I should read it or not. I am very doubtful with this book but I will add it to my Goodreads 'to read' account and perhaps when I am doing a book buying spree I will buy it.
No
how many boys Claire kisses, she can't seem to find a decent boyfriend. Someone who wouldn't rather date her gorgeous best friend, Megan. Someone who won't freak out when he learns about the tragedy her family still hasn't recovered from. Someone whose kisses can carry her away from her backwoods town for one fleeting moment.
Until Claire meets Luke.
But Megan is falling for Luke, too, and if there's one thing Claire knows for sure, it's that Megan's pretty much irresistible.
With true love and best friendship on the line, Claire suddenly has everything to lose. And what she learns—about her crush, her friends, and most of all herself—makes the choices even harder.
MY THOUGHTS
No, the theme is not romance.
This is just purely coincidental.
I think I am more likely to read this book than to read "The things you kiss goodbye."I don't know why but to me this seems like a real love story. Because just from reading the blurb there seems to be no love triangles. Do you realise how badly I HATE LOVE TRIANGLES. Oh my gosh.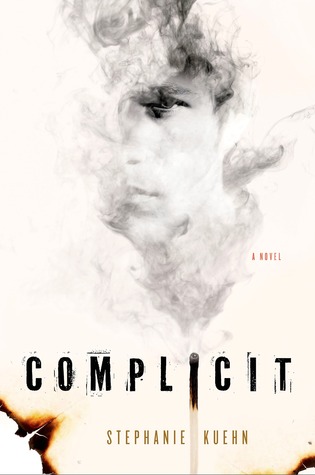 COMPLICIT
Release Date: 24th June 2014
Two years ago, sixteen-year-old Jamie Henry breathed a sigh of relief when a judge sentenced his older sister to juvenile detention for burning down their neighbor's fancy horse barn. The whole town did. Because Crazy Cate Henry used to be a nice girl. Until she did a lot of bad things. Like drinking. And stealing. And lying. Like playing weird mind games in the woods with other children. Like making sure she always got her way. Or else.
But today Cate got out. And now she's coming back for Jamie.
Because more than anything, Cate Henry needs her little brother to know the truth about their past. A truth she's kept hidden for years. A truth she's not supposed to tell.
This book sounds like it has no romance in it whatsoever...
Anyway this sounds absolutely thrilling. I love it in books where girls are the absolute badass, its so awesome and when I'm reading it I imagine that I have already broken all of these rules and am just reading about myself (when really I do nothing as badass as the badass girls in these super cool, badass books).
**takes award for saying badass the most in a sentence**

INLAND
Release Date: June 12th 2014
Callie Morgan has long lived choked by the failure of her own lungs, the result of an elusive pulmonary illness that has plagued her since childhood. A childhood marked early by the drowning death of her mother—a death to which Callie was the sole witness. Her father has moved them inland, away from the memories of the California coast her mother loved so much and toward promises of recovery—and the escape of denial—in arid, landlocked air.
But after years of running away, the promise of a life-changing job for her father brings Callie and him back to the coast, to Florida, where Callie's symptoms miraculously disappear. For once, life seems delightfully normal. But the ocean's edge offers more than healing air … it holds a magnetic pull, drawing Callie closer and closer to the chilly, watery embrace that claimed her mother. Returned to the ocean, Callie comes of age and comes into a family destiny that holds generations of secrets and very few happy endings.
1. I hope you appreciate and realise how many people are raving and swooning over the cover of this book, it is amazing.
2. The story line sounds gripping (just from the blurb) it makes me want to scream. **adding it to 'need to read list' on Goodreads.
A/N: Next post will probably be; 'currently reading'. Stay seated.
Tfios comes out in England in two days **cries**
MY BLOG IS BETTER THAN YOUR VLOG