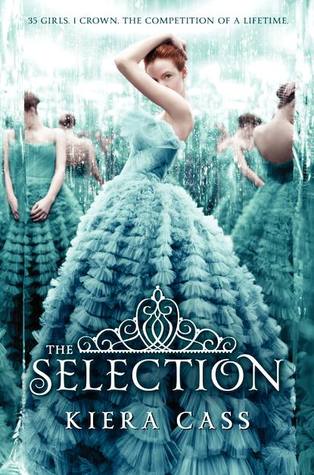 Title: The Selection.
Author: Kiera Cass
Format: Paperback
Release date: 24th April 2012
Genre: YA Romance, Dystopian, Future.
Stars out of ten:
SUMMARY
For thirty-five girls, the Selection is the chance of a lifetime. The opportunity to escape the life laid out for them since birth. To be swept up in a world of glittering gowns and priceless jewels. To live in a palace and compete for the heart of gorgeous Prince Maxon.
But for America Singer, being Selected is a nightmare. It means turning her back on her secret love with Aspen, who is a caste below her. Leaving her home to enter a fierce competition for a crown she doesn't want. Living in a palace that is constantly threatened by violent rebel attacks.
Then America meets Prince Maxon. Gradually, she starts to question all the plans she's made for herself—and realizes that the life she's always dreamed of may not compare to a future she never imagined.
REVIEW
When America Singer is thrown into a selection of 39 (it's in the thirties?) girls all competing for Prince Maxon's heart, all she wants to do is escape. She meets Prince Maxon on the first night of the castle, America was feeling claustrophobic and willing to obliterate anything in her way of keeping her from the gardens of the Castl, however the guards would not let her pass until Maxon sees her struggling and 'saves' her, only to be called shallow by America. However Maxon keeps her in the competition and meets her the next day after breakfast for the second time where he teases her about getting uptight after he called her "my dear" claiming it works on other girls.
Over time America became Maxon's supposed favourite, but America promised to only be his friend in order to help him through he selection and only to keep her in the competition for the food. But her feelings change towards the end of the book when she realises she has feelings for Maxon.
FIRST SENTENCES
'When we got the letter in the post, my mother was ecstatic. She had already decided that all of our problems were solved, gone forever. The big hitch in her brilliant plan was me."
FIRST THOUGHTS
I loved this book so much, I'm not really a big fan of the whole Princess thing (well I wasn't before I read this book). However this has reached one of the near to top marks in my favourite series list. The characters are so amazing and they are so easy to relate to. I mean we all have that girl that is super annoying and rips your dress off and you constantly want to tell someone but nobody would believe you... yeah well that's Celeste.
Release Date: April 23th 2013
Genre: YA Romance, Dystopian, Future.
Stars out of ten:
SUMMARY
Thirty-five girls came to the palace to compete in the Selection. All but six have been sent home. And only one will get to marry Prince Maxon and be crowned princess of Illea.
America still isn't sure where her heart lies. When she's with Maxon, she's swept up in their new and breathless romance, and can't dream of being with anyone else. But whenever she sees Aspen standing guard around the palace, and is overcome with memories of the life they planned to share. With the group narrowed down to the Elite, the other girls are even more determined to win Maxon over—and time is running out for America to decide.
Just when America is sure she's made her choice, a devastating loss makes her question everything again. And while she's struggling to imagine her future, the violent rebels that are determined to overthrow the monarchy are growing stronger and their plans could destroy her chance at any kind of happy ending
REVIEW
Aspen, America's old boyfriend now conveniently has a job as a palace guard assigned to America's door. Meaning every single time America sees Aspen she is torn as to whether she should get back with Aspen again. Meanwhile her liking to Maxon just keeps increasing. However after one of the girls who was close to America in the selection gets whipped due to her having a 'fling' with a guard, America tries to save her friend only to be pushed back.
After this event happens Maxon and Kriss start spending more time together and Kriss becomes the favourite of many people.
America only then realises that she never wants to loose Maxon.
FIRST SENTENCES
"The Angeles air was quiet, and for a while I lay still, listening to the sound of Maxons breathing. It was getting harder and harder to catch him in a truly calm happy moment, and I soaked up the time, grateful that he seemed to be at his best whilst he and I were alone."
FIRST THOUGHTS
I only gave this nine stars because it was the most annoying book I have ever read and then we had to wait at least a year for The One to come out, expected to carry on with daily life. And also ASPEN CAME BACK, KRISS AND MAXON GOT REALLY CLOSE AND AMERICA ALMOST LEFT THE SELECTION BUT DIDN'T. Such a good book but, I don't think I have ever shouted at a book so much.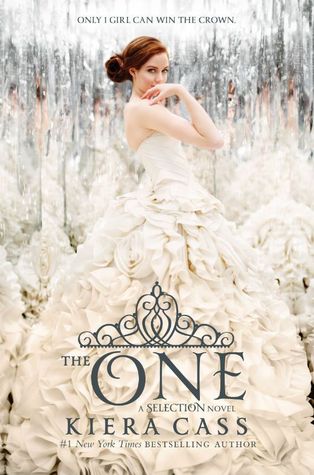 Title: The one
Author: Kiera Cass
Format: Paperback
Release Date: May 6th 2014
Genre:
YA Romance, Dystopian, Future.
Stars out of ten:
SUMMARY
The Selection changed America Singer's life in ways she never could have imagined. Since she entered the competition to become the next princess of Illéa, America has struggled with her feelings for her first love, Aspen--and her growing attraction to Prince Maxon. Now she's made her choice . . . and she's prepared to fight for the future she wants.
REVIEW
America starts to worm her way back into the selection, with there only being 5 girls left in the competition America Singer is prepared to win the crown and the title as Princess of Illea, and Maxon is prepared to help her. In the very beginning of the book she takes the Kings words very seriously and in order to prove that she could also satisfy Maxon just as well as the other girls she wears a very seductive red dress with a slit up the thigh to dinner that night, and when Maxon tugs his ear she is ecstatic. However it di not turn oyut the way she thought it was.
Many huge things happen that shock the reader just as much as they do America, with America witnessing Kriss' and Maxon's first kiss to Maxon brushing off America the morning of the main announcement. I will just warn you that the shootings can either break or make America's life in this book.
FIRST SENTENCES
"This time we were in the Great Room enduring another etiquette lesson when bricks came flying through the window."
FIRST THOUGHTS
I suffered with post book depression after reading this book, I was so upset that the series had ended, I mean it made/makes me want to be a princess with a Prince Maxon, and all I did for about three days was just read the books over and over again. But I loved this book, it was my favourite out of all of the three and that's all I am say because I am bound to splurt out spoilers and I don't want to ruin it for all of you upcoming princesses.
Please, please, please, please read it.
I will probably/hopefully post tomorrow:)
MY BLOG IS BETTER THAN YOUR VLOG