Guess who has been dashing to Waterstones recently... yes, me. After Speech Day on my very last Saturday school of the year, my family decided that I should have a gift for all of my very hard work over the year and I could have anything. Long story short, I went book shopping and it was great.
Here's what I bought...
WILL GRAYSON, WILL GRAYSON.




One cold night, in a most unlikely corner of Chicago, two strangers cross paths. Two teens with the same name, running in two very different circles, suddenly find their lives going in new and unexpected directions, culminating in heroic turns-of-heart and the most epic musical ever to grace the high-school stage.




MY THOUGHTS.

I have been meaning to read this for along time, in fact my John Green part of my mind and my book shelf is rather sparse. So this is to add to my collection. I have been meaning to read this for quite a while. When I saw it in Waterstones, I had to pick it due to the fact that I recently read

'Everyday'

by David Levithan and loved it. There would be no logic in leaving the book behind.
DEEP BLUE.
Deep in the ocean, in a world not so different from our own, live the merpeople. Their communities are spread throughout the oceans, seas, and freshwaters all over the globe.
When Serafina, a mermaid of the Mediterranean Sea, awakens on the morning of her betrothal, her biggest worry should be winning the love of handsome Prince Mahdi. And yet Sera finds herself haunted by strange dreams that foretell the return of an ancient evil. Her dark premonitions are confirmed when an assassin's arrow poisons Sera's mother. Now, Serafina must embark on a quest to find the assassin's master and prevent a war between the Mer nations. Led only by her shadowy dreams, Sera searches for five other mermaid heroines who are scattered across the six seas. Together, they will form an unbreakable bond of sisterhood and uncover a conspiracy that threatens their world's very existence
MY THOUGHTS.
I bought this for four reasons;
1. The font is the colour blue.
2. It's a hardback which looks beautiful.
3.The guy in the shop told me to buy it.
4. How cool would it be to be a mermaid?
Basically I was standing by this book which was lonesome on this little lonely table and I picked it up and the guy who works in waterstones was like "Oh my God, I read that book a few months ago its amazing." How could you turn that down? It would have looked really awkward if I had just put it down and walked off and look at that cover... its gorgeous and enticing.
RAVENS GATE
He always knew he was different.
First there were the dreams.
Then the deaths began.
When Matt Freeman gets into trouble with the police, he's sent to be fostered in Yorkshire. It's not long before he senses there's something wrong with his guardian: with the whole village.
Then Matt learns about the Old Ones and begins to understand just how he is different. But no one will believe him; no one can help.
There is no proof. There is no logic. There is just the Gate.
MY THOUGHTS.
I grew up reading Anthony Horowitz, and these books just take up so much space in Waterstones and I just felt like "it is now time to read this series because you need to". Anthony Horowitz is one of my favourite writers and I am very excited to read one of his books/series again.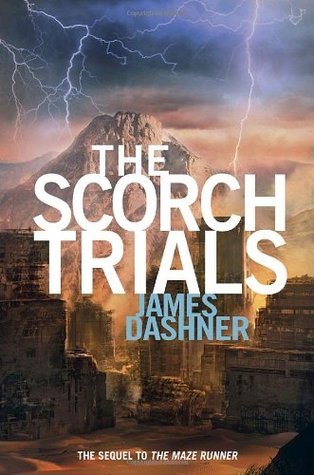 THE SCORCH TRIALS
Solving the Maze was supposed to be the end.
Thomas was sure that escape from the Maze would mean freedom for him and the Gladers. But WICKED isn't done yet. Phase Two has just begun. The Scorch.
There are no rules. There is no help. You either make it or you die.
The Gladers have two weeks to cross through the Scorch—the most burned-out section of the world. And WICKED has made sure to adjust the variables and stack the odds against them.
Friendships will be tested. Loyalties will be broken. All bets are off.
There are others now. Their survival depends on the Gladers' destruction—and they're determined to survive


MY THOUGHTS.
I have literally just started this, I have very high hopes for this book because The Maze Runner was amazing and I absolutely loved it.
I tried to buy more books that I wouldn't usually read, so I will report back to you what I thought of all of them.
MY BLOG IS BETTER THAN YOUR VLOG