"My heart had been broken and I had been lied to and betrayed in the most unimaginable way, but now I had something to focus on."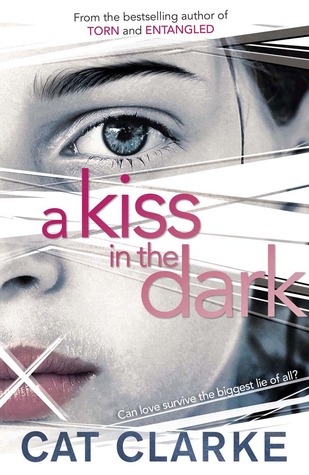 Title: A Kiss in the Dark
Author: Cat Clarke
Genres: Young adult
Rate: ☆☆
When Alex meets Kate the attraction is instant.
Alex is funny, good-looking, and a little shy – everything that Kate wants in a boyfriend.
Alex can't help falling for Kate, who is pretty, charming and maybe just a little naive…
But one of them is hiding a secret, and as their love blossoms, it threatens to ruin not just their relationship, but their lives.
This is my second Cat Clarke that I have read, the first was Torn and there were many things I mentioned in Torn that applied for A Kiss in the Dark too, like:
-We were revealed the secret pretty early on, maybe in chapter 2?
-The readers knew what the secret was and obviously the character who was narrating did as well, but the character that didn't was kept in the dark.
-I thought that there was still just a beginning, middle, and end but this time with a few unexpected turns.
When I read the blurb, I thought,
'hmm, the secret's going to be totally predictable and cliché, but I'm going to read it anyway.'
The 'secret' is like a slap in the face. It's totally unpredictable and you're sort of just standing there, rereading the page, maybe rubbing your eyes to see if you didn't see the words right, or thinking that it is a joke. Then, when it has settled in, you raise your eyebrow. Just the one.
THIS IS NOT YOUR TYPICAL CLICHÉ BOOK. Anyway, as the story progressed, I felt myself not really caring. The characters lacked a certain factor. I rolled my eyes several times, too. I only felt myself wanting to read the book after half of the book, when the narrator switched. The second half is a lot better.
This book is about a teenage romance, sexuality, and love. I didn't really like this book mainly for the fact that the characters were dull. Also, we were revealed what the the secret was very early in the book and I thiknk that it would've been a lot more fun guessing and building mystery.