I think its that time again for me to apologise for the lack of posts, however I have exams next week and I've been very busy. But not to worry we only have four more weeks of school and then we will have eight weeks full of blog posts and reading. It sounds like heaven.
It is time for our very new feature; New releases, which has been done many time which I guess means it isn't as new as I'm making it out to be.
Lets crack on with new release for May 2014.
ΕRCHOMAI, SEBASTIAN HAD SAID.
I am coming.
Darkness returns to the Shadowhunter world. As their society falls apart around them, Clary, Jace, Simon and their friends must band together to fight the greatest evil the Nephilim have ever faced: Clary's own brother. Nothing in the world can defeat him — must they journey to another world to find the chance?


MY THOUGHTS;
I am currently reading this book and so far; its perfect. Cassandra Clare is a Queen and she is perfect at creating made up worlds. I mean just read the blurb, and she has already used a rhetorical question and mentioned four people's names. If you've read the first five thios is well worth a read.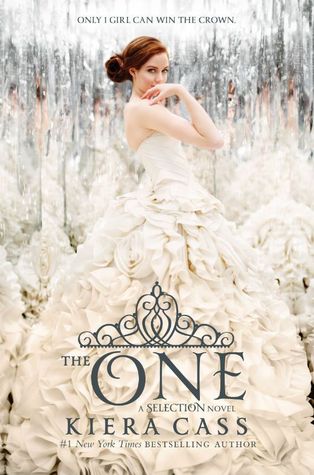 THE ONE.
Author: Kiera Cass
The Selection changed America Singer's life in ways she never could have imagined. Since she entered the competition to become the next princess of Illéa, America has struggled with her feelings for her first love, Aspen--and her growing attraction to Prince Maxon. Now she's made her choice . . . and she's prepared to fight for the future she wants.
Find out who America will choose in The One, the enchanting, beautifully romantic third book in the Selection series!
MY THOUGHTS;
I have been raving about this book for ages, and eagerly awaiting the last book to the selection series. However it is not available in England yet and I haven't been able to read it. Which is very disappointing.

WE WERE LIARS.
A beautiful and distinguished family.
A private island.
A brilliant, damaged girl; a passionate, political boy.
A group of four friends—the Liars—whose friendship turns destructive.
A revolution. An accident. A secret.
Lies upon lies.
True love.
The truth.
MY THOUGHTS.
I recently read this book and finshed it. Its quite a short book with 225 pages, but such as strong story line. The characters were so vivid and the blurb is very mysterious. Well worth a read.
I will do a review on it in the near future.

ALL THE LIGHTS WE CANNOT SEE.
From the highly acclaimed, multiple award-winning Anthony Doerr, a stunningly ambitious and beautiful novel about a blind French girl and a German boy whose paths collide in occupied France as both try to survive the devastation of World War II.
Marie Laure lives with her father in Paris within walking distance of the Museum of Natural History where he works as the master of the locks (there are thousands of locks in the museum). When she is six, she goes blind, and her father builds her a model of their neighborhood, every house, every manhole, so she can memorize it with her fingers and navigate the real streets with her feet and cane. When the Germans occupy Paris, father and daughter flee to Saint-Malo on the Brittany coast, where Marie-Laure's agoraphobic great uncle lives in a tall, narrow house by the sea wall.
In another world in Germany, an orphan boy, Werner, grows up with his younger sister, Jutta, both enchanted by a crude radio Werner finds. He becomes a master at building and fixing radios, a talent that wins him a place at an elite and brutal military academy and, ultimately, makes him a highly specialized tracker of the Resistance. Werner travels through the heart of Hitler Youth to the far-flung outskirts of Russia, and finally into Saint-Malo, where his path converges with Marie-Laure.
MY THOUGHTS:
I dint know whether I am one to read war books or not. I mean I have read my fair share of them and enjoyed them, but others I have read and stopped half way through.
I like the storyline and the two different people in different countries and all but I cannot tell you whether I would read it or not.
RUSH TOO FAR.
Fallen Too Far
was Blaire's story. Now it's time for Rush to share his side.
Everyone in Rosemary Beach thinks they know how Rush Finlay and Blaire Wynn fell in love. But Rush is back to tell his side of the story...
Rush has earned every bit of his bad-boy reputation. The three-story beach house, luxury car, and line of girls begging for time between his sheets are the envy of every guy in Rosemary Beach, and Rush handles it all with the laid-back cool of a rock star's son. All he needs are his best friend, Grant, and his sister, Nan.
Until Blaire Wynn drives into town in her beat-up pickup truck with a pistol under her seat. The Alabama farm girl instantly captures Rush's attention once he discovers that the angelic beauty is his new stepsister, but he vows to keep his distance. Even if she needs his help. Even if he craves her.
Because Rush knows why Blaire is all alone in the world, forced to ask for help from the father who abandoned her three years ago. And he knows if he gets too close it will destroy Nan, who has a secret connection to Blaire.
He has every reason in the world to stay away from her. Find out why he doesn't
.
MY THOUGHTS;
This reminds me of a Wattpad story, and if you do not know already I love cliché wattpad story's. I'm not a big fan of the cover though, I don't like it when the main character is on the cover because I cannot imagine them as well.
MY BLOG IS BETTER THAN YOUR VLOG